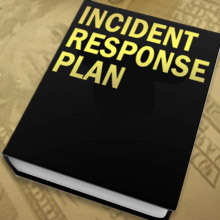 What happens in your company when a production incident occurs?
Usually in a typical startup, you will see engineers running around frantically trying to resolve the problem. However, as soon as the incident is resolved, they forget about it and go back to their usual business.
A good
incident response policy
can help bring order into chaos. There are a few best-practices that one should keep in mind when production outages occur:
- Having a procedure in place helps reduce the panic. Security incidents should be treated differently than production outages.
- In the report, explain a response timeline and how the problem was discovered.
- An incident report should be written the same day as an incident occurred. Otherwise, you risk forgetting what happened.
- It should have concrete follow-up actions, tracked as JIRA tickets. If you don't do this, then engineers will not follow up.
- Put up incident reports in a public location and compute metrics Are incidents happening less frequently this month than the previous? Is there any correlation between incidents? Are follow-up actions being addressed?
Attached is a sample incident response template that I've used.
Incident Analysis Report
| | | | |
| --- | --- | --- | --- |
| | | | |
| Date Issue first identified | | | |
| Incident Report Prepared By: | | | |
| | | | |
I.
Description of Incident:
2:40 AM PDT We are investigating connectivity issues for EC2 in the US-EAST-1 region.
3:03 AM PDT Between 2:22 AM and 2:43 AM PDT internet connectivity was impaired in the US-EAST-1 region. Full connectivity has been restored. The service is operating normally.
III.
Business Impact:
Frustrated customers because the website ACME was unaccessible.
There are no known issues related to this subject
There weren't enough servers to handle the load for new customers.
VI.
Event Timeline:



| | |
| --- | --- |
| | All Amazon hosts were inaccessible |
| | |
| | |
| | |
| | |
| | |
| | |
-
We need to know the business impact for each server on Amazon and put DR polices and procedures in place for outages. We could also leverage the California EC2 Cloud to potentially help outages in just Virginia.
VIII.
Action Items:




1.

Called EC2 and they are going to alert us of what they find out about the issue (INFRA-123)

2.

Identify what we can and can't do if EC2 goes down (INFRA-345)